The participants will be accommodated in an apartment in one of the different districts of Bremen.
By public transport or on foot it goes to the internship daily.
The city center and Bremen Airport are always in the immediate vicinity.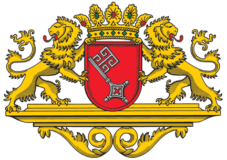 About Bremen
The city of Bremen is the capital of the Free Hanseatic City of Bremen.
In addition to Bremen, the two-city state also belongs Bremerhaven 53 km to the north.
The city of Bremen is the eleventh largest city in Germany with around 566,000 inhabitants.
Bremen is part of the European Metropolitan Region Bremen / Oldenburg with a good 2.7 million inhabitants, one of eleven European Metropolitan Regions in Germany.
The Bremerhaven City Bremen Overseas Port Area is an exclave to the city of Bremen within Bremerhaven.
Bremen lies on both sides of the Weser, about 60 kilometers before its confluence with the North Sea and its transition to the outer Weser near Bremerhaven.
At the center of the old town of Bremen, the Mittelweser merges into the lower Weser, which is expanded from the railway bridge Bremen to the waterway.
The landscape to the left of the Lower Weser, traversed by the Ochtum, is known as the Wesermarsch, the landscape to the right of the Lower Weser belongs to the Elbe-Weser triangle.
The Lesum, with its source rivers Wümme and Hamme, the Schönebecker and the Blumenthaler Aue form from here the tributaries of the Weser.
Source: Wikipedia
More about Bremen: https://www.bremen.de