What we do
About Us
We offer custom projects for schools and other institutions in the EU.
More about us
Founded in 2018, there is a lot of know-how and experience behind this young company.
The founder, Wouter Groet, created his first mobility project in 2003, and has since successfully completed more than 100 projects.
Over 800 participants from 7 different countries traveled to Germany to successfully complete an internship. He is supported by 3 assistants who have many years of experience in carrying out mobility projects.
Our history
"Erasmus Partner" was founded in 2018 by Wouter Groet.
Wouter Groet was employed till 2018 at a well-known education center in Germany. For this organization he has implemented more then 100 of these mobility projects.
Latest news
What is happening
The Christmas message: There is no greater power than love. It overcomes hatred. Like the light the darkness.Martin Luther King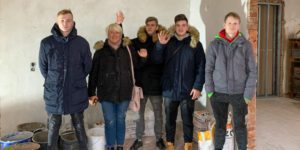 'erasmus partner' welcomes the trainees from Riga, Latvia to Germany. Students and their teacher from the vocational school in Riga, Latvia As part of an Erasmus+ funding scheme, 4 trainees …
'erasmus partner' welcomes the trainees from Rēzekne, Latvia to Germany. Students from vocational school in Rēzekne, Latvia As part of an Erasmus+ funding scheme, 6 trainees from Rēzekne visit Schwerin. …